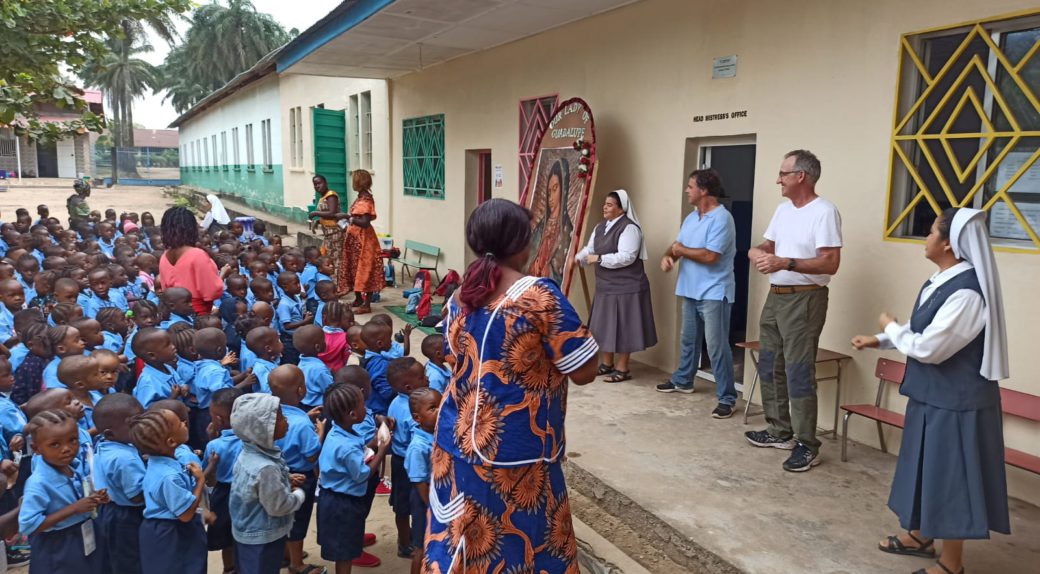 Jose Galíndez's travel journal to Sierra Leone
Published by Eki.
ILLUMINATING AFRICA
A report of my trip to Sierra Leone
We started the EKI Foundation in 2017, and for various personal reasons I had not been able to travel to Africa until this year. I was very interested in seeing our facilities in operation, and above all in talking with the people who use them, in feeling the impact of providing constant, clean and affordable electricity in schools and health centers.
After two attempts frustrated by COVID19, I was finally able to board for Sierra Leone on December 8, 2020. I joined Nacho Mingo, coordinator of the EKI Foundation who was already there, and José Mari Puig, head of the NGO "Ayuda a Contanedores". This NGO serves as logistics platform for other NGOs to send and receive humanitarian aid around the world. Nacho is a regular in Sierra Leone, where since 2017 he has installed six EKI Foundation solar pv systems. For José Mari, this was the first visit to Sierra Leone. He had been to Benin some years before.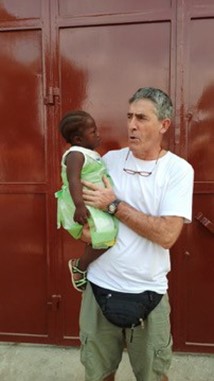 ---
NEW DON BOSCO FAMBUL
Our first stop was New Don Bosco Fambul, an educational complex that stretches for 10 hectares, an hour away from the Don Bosco Fambul in the center in Freetown. Since 1998, Don Bosco Fambul in Freetown, Sierra Leone is a therapy center for young people, rescuing girls from prostitution and hopeless young people from the streets to give them a future, a chance. The soul of this project is Father Jorge Crisafulli, with more than 25 years in Africa and for five years directing the work of Don Bosco Fambul in Sierra Leone. The first task of the EKI Foundation in the New Don Bosco Fambul was to put together a solar pv installation at the "Girls Shelter", one of the buildings in the complex, where 30 girls rescued from prostitution are housed. At the time it was the only clean energy building, the rest running only a few hours a day with a generator set. The initial idea was to replicate individual solar installations in each of the buildings. Finally, the EKI Foundation has installed a solar pv system with 120 panels (39.6 kW) and 5x 13.5 kWh of batteries that provides service to the rest of the buildings. It is an immense satisfaction to see how all the buildings in the complex are illuminated, day and night, with clean energy, at a fraction of the cost of the few hours of generator set.
The work that Jorge Crisafulli and his team get accomplished at New Don Bosco Fambul is impressive. With four "refuge" buildings for street children, kids in conflict with the law, sexually abused girls, or kids raised in an environment of mistreatment and abuse, the center provides them with shelter, food, company and training. It is a comprehensive therapy center for those in attendance, who see a ray of light at the end of the tunnel that has been their life.
Crisafulli and his team do not limit themselves to welcoming and attending to all these boys and girls, but they actively combat abuse with a 24/7 call center for abuse calls. They tell us the stories of some of these boys and girls that are terrible and difficult to reproduce.
The story of this smiling five-year-old girl that Nacho hods is not compatible with her smile. A scar runs across her chest from top to bottom, from the surgical operation she underwent to fix the internal damage of a rape. Stories like this are not unusual in the center, but they are not shown in the smiling faces of the children, although trauma is already a part of their lives.
Every night, the bus in the picture travels the slums of Freetown with social workers, to attend, take them home, give shelter, legal coverage or advice to many young men and girls on the street.
Jorge Crisafulli's work does not end there. They work together with other organizations in Sierra Leone to toughen the legal framework for child abuse in all its aspects. They have managed to improve legislation and raise awareness that violence cannot go unpunished, especially when it affects very vulnerable sectors. Sierra Leone is a country still traumatized by a very cruel war.
Patricia Rodriguez, from the NGO Child Heroes, whom we had the opportunity to meet, also helps him in this work. During our trip, Patricia was directing a handbag production workshop, carried out by refugee girls at D. Bosco Fambul in Freetown. You can see here some of his work. It is also launching, together with Don Bosco Fambul, a legal support project with external lawyers for the victims of abuse.
And it will not be because Father Crisafulli is not aware of the harshness of the penal system in Sierra Leone, since he is a regular in Pademba prison, the focus of another of Don Bosco Fambul's programs in Sierra Leone where he also carries out regular assistance and counseling to inmates.
I also had the opportunity to meet Andreas, who is responsible for the construction projects, and his deputy, Ibrahim, whose family history in the war also touched us.
Already on this first visit it was very palpable that the mission of Fundación EKI is to give light and tools to those who truly illuminate Africa, that legion of Jorge Crisafullis, his assistants and cooperators who help mitigate the suffering of the most vulnerable, poorest of the poor.
---
HOME LEONE
Home Leone is an NGO based in Luton, England. Their vision for Sierra Leone is to help families getting out of the Freetown slums, house them in a community that Home Leone has built on the outskirts of the city, provide them with job opportunities in a brick factory and other developments of Home Leone or from the outside. The village currently has 60 resident families, and the plan reaches up to 300 families. Their energy needs are covered by two gen-sets, one 40 kW and the other 20 kW that alternate depending on the total load of the village. EKI Foundation is going to make a proposal to cover the electrical needs with a solar pv installation, with a considerable saving in the cost of the kWh produced plus the elimination of pollution and noise.
---
OUR LADY OF GUADALUPE - SISTERS CLARISAS - LUNSAR
Our next destination was the school of Our Lady of Guadalupe run by the Sisters Clarisas in Lunsar. A school of 2,000 girls with kindergarten, primary and secondary where we installed a first photovoltaic system in January 2020, in the house where the sisters live and we will extend throughout 2021 to administration areas, boarding school and other areas of the school .
Sister Adriana welcomes us. She is Mexican like sisters Blanca and Esmeralda. The rest of the sisters, up to twelve, come from Nigeria, Sierra Leone and Japan. At 6.30 a.m. we attended mass with them and at 8 a.m. we witness the entrance of the girls to school. They come alone or with their parents in the taxi-motorcycle service ("ocadas"), three or four on a motorcycle, of course without a helmet ...
Sister Adriana tells us about her challenges to raise the level of education for girls in the rural environment in which they find themselves. The local culture is for girls to learn something but to help especially with household tasks or with products to be prepared for the market. It is not easy for the sisters to break this culture and place their kids studies high where it should be. It is hard to achieve sufficient qualifications for these kids to go to university.
That same afternoon, Sister Adriana took us to a village along the Seli River, with no more than 15 huts. The first time she was there it was to take care for a mother of triplets, one of whom has a leg that does not develop properly.
While visiting the family on one occasion, a girl approached Sister Adriana telling her that she was starving.
Although all the children ask for food, it is not that normal for them to go hungry, so the sister did not pay much attention to her plea, but after a while the girl returned and said: sister, help me! The girl had drunk caustic soda from a bottle, her esophagus was burned, and she simply couldn't eat. Nekane, a pediatrician from Bilbao at the Freetown hospital, started treating her. They put a gastric tube on her, and at least now she can be fed. We were told that when she grows up, she can have a more definitive operation on her esophagus. Here we can see "Aisatu", along with sister Adriana and Nacho. On instructions of the pediatrician Nekane, Nacho brought two food grinders from Bilbao, so that Aisatu´s mother can pass her the food in liquid form through the gastric tube.
---
ST. JOSEPH SCHOOL FOR HEARING IMPAIRMENT - MAKENI
That day we also visited the St. Joseph School for hearing impairment, a school for deaf-mutes in Makeni, which has deaf-mute students in primary and secondary school. The work is impressive. It was founded by Sister Mary Sweeny, of Irish origin who has just retired. Sister Amala, who has replaced her, does not have the same donor connections as her predecessor. They are having a hard time and she thinks that a solar pv installation will alleviate their financial problems.
St. Joseph School is connected to the electric grid in Makeni, which has a cost per kWh comparable to that of a photovoltaic installation, so we do not see the advantage of putting an installation on the premises. Sister Amala is under a lot of pressure and she burst into tears when I told her that there was no point in putting up a solar installation with the information we had. It touched us all. We have proposed that we take charge of the electricity bill or part of it, until the Board of Trustees of St. Joseph School has a concrete financing plan for the institution. They play an irreplaceable function in the community. We have to help, trying not to do things that don't make sense.
In Makeni we also meet Coco Portillo, from Canary Islands, who lives in Kabala and who builds schools for the Javerianos, a religious missionary congregation founded by San Guido Maria Conforti, and whose patron is San Francisco Javier. The goal of the Xaverians is the evangelization of non-Christians: "Go throughout the world and preach the Gospel to every creature." We meet in Makeni with Father Alex, a Javerian Peruvian, to whom we explain how we work at Fundación EKI.
---
SAN JUAN DE DIOS HOSPITAL- NURSING SCHOOL - LUNSAR
Also on Friday afternoon we visited the facility that we started up in 2018 at the nursing school linked to the San Juan de Dios Lunsar Hospital. We were welcomed by the responsible for the maintenance of the nursing school and hospital.
Once we saw the installation that works perfectly, despite having suffered the effects of electrical storms (we are installing a lightning rod), they took us to see a solar pv installation that they have in the hospital, a few hundred meters away. The installation is only a few years old, but it does not work well. We recommend to call the company that made the installation, but the maintenance manager insisted:! we want EKI !!! We will make a proposal to replace the current system.
At the San Juan de Dios hospital we had a special memory for the Spanish priest and doctor Manuel García Viejo, charismatic Medical Director of this hospital who gave his life caring for Ebola patients in September 2014. Miguel Pajares, also a Spanish priest, was the first repatriated to Europe and also died of Ebola in August 2014.
Both of them gave their lives helping others selflessly, something that can be seen very often in both religious and laity NGOs in this part of the world. On the EKI Foundation website we are collecting their stories at https://fundacioneki.org/en/people/
---
MANGHE BUREH
On Saturday, December 12, the day of the Virgin of Guadalupe, the Clarisas sisters of Lunsar prepared a special breakfast in honor of their patron. We said goodbye and traveled to the Manghe Bureh mission, to visit Father Pepe and the Clarisas sisters of that mission. This was our first solar pv installation in Sierra Leone, in November 2017.
The installation looks great. After three years it works like clockwork, and I congratulate Nacho, as it was also his first. It is very well executed.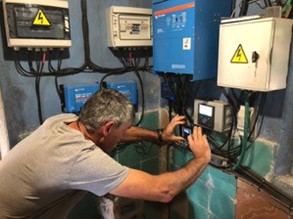 Father Pepe tells us about his day to day as head of the mission, as head of a secondary school, of his constant fight with the petty corruption in the world of education, that he fights without discouragement, and the problems that this entails . He also tells us about the assistance to the sick in the times of Ebola that hit the region. They left food for the sick at a safe distance and treated them with the few means available to them.
Despite the fact that the communities in which they work in Lunsar, Manghe, etc. are predominantly Muslim, priests and nuns receive recognition from families for the tremendous work they do for the good of their children. Father Pepe tells us that on Sunday mornings he celebrates mass in the villages in the area he serves. The locals await him with the entire altar and the prepared and decorated premises. The mass is mainly filled with Muslims, and as he explains, they all have a shared "experience of God" in the mass. It is spectacular. Pure ecumenism, without much doctrine.
---
KANBIA - CONGREGATION OF THE SISTERS OF MERCIFUL JESUS
From Manghe we left for Kanbia, where we met with a Polish congregation, The Congregation of the Sisters of Merciful Jesus. Sister Giana welcomes us, and first introduces us to Fathers Jaczic and Robert, who live in Kanbia in a residence with a school, church and parish center. They are served through a gen-set and we are going to study a photovoltaic plant for them. With Sister Giana and Father Robert we go to the primary school and the house of the sisters, which is about 5 km from the center.
In most cases, the electrical installations that we find are quite poor, and Nacho and Angel have to deal with real electrical crosswords to try to understand what is connected and how!
In this house lived a congregation of Italian nuns who were kidnapped during four months in the war. After their release they were repatriated and left the house that has been occupied three years ago by Sister Giana and three other nuns from her congregation. They are gradually building this primary and secondary school in Kabia. We are going to propose a photovoltaic system to replace with 24/7 service the few hours gen-set that they can afford.
---
ST. AUGUSTINE SCHOOLS DON BOSCO - LUNGI
The last leg of the trip took us to St. Augustine School Don Bosco in Lungi. Father Antonio Gutierrez welcomes us. Because some PCR paperwork, I had to spend one more day in Lungi with Father Antonio, who displayed all his hospitality. They have a solar pv system for a few years, which was broken just a few days ago. We did our best to repair it, but surely the inverter was damaged. Back in Spain we solved the problem involving Easy Solar, a local company in Freetown.
Out of the installations we visited, both EKI´s and others, it is very clear that our facilities are very well executed, and that continuous monitoring of the facilities is essential to ensure the long life of the equipment.
With the solar pv plant off and the economic restrictions that force to turn off the generator set, I had the experience of a whole night without electricity. How missed are the little comforts that electricity brings when you don't have them!
The last day before taking my plane, I accompany Father Antonio to the villages of Madina and Tagrim where he celebrated mass for the local communities. Another special experience.
I did not have the time to visit two installations: the system that Nacho has just completed in Kailahun, also for a school community of the Clarisas sisters, which was partially funded with a grant from the Getxo City Council, and the moringa production installation, in Bo, which also received a grant from Rioja Alta SA for its construction.
---
CONCLUSIONS
The conclusions of this trip can be grouped into these points:
The first one, that at Fundación EKI, we execute great installations from a technical point of view, that perform a basic and extremely important function in the schools and health centers where we install them. Clean and secure electricity, 24/7 and much much cheaper than the alternative gen-set we replace.
That it would be difficult to do it without the logistical help of such important NGOs as "Ayuda a Contanedores" in Pamplona, or "Llamaradas de Fuego" in Seville.
That we can confirm our mission as "providing light and tools to those who truly illuminate Africa, this very large group of people, religious or not, dedicated to the cause of improving the lives of others", so they can do their work in better conditions. They had other options for their lives, and they made their choice. Some of their faces are below.
José Galíndez, 26/12/2020